Using a mist to carry the agent, it ensures complete disinfection of surfaces.
Cyclical outbreaks of both animal and human diseases mean that solutions are needed to prevent the spread of epidemics in the public space and at the same time ensure smooth operation in the public, agricultural and economic sectors.
JFC disinfection foggers are the answer.
JFC's disinfection foggers are specially designed to disinfect large and small areas with a carefully formulated disinfectant solution that kills 99.9% of all bacteria and viruses. Using mist to carry disinfectant is the Ideal choice to ensure complete surface disinfection.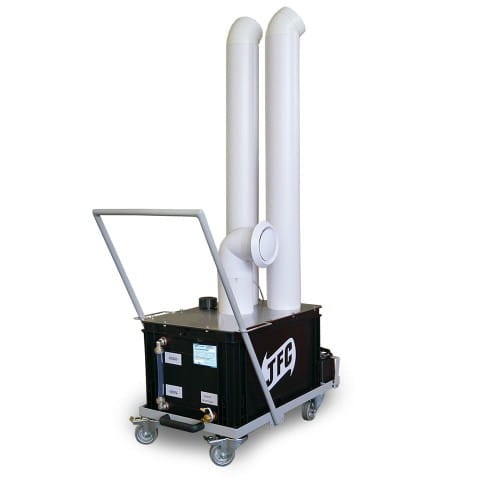 Advantages:
Fogger designed for rapid disinfection of rooms,
A modern and inexpensive method of disinfection with
The use of appropriate preparations;
The device is equipped with fog generators with a capacity of 13,000 to 18,000 ml/h;
230V/50Hz supply voltage;
Designed for room areas up to 300m² or
A volume of up to 1,200 m³;
Functional cart dedicated to the fogger (optional);
The weight ranges from 22 to 35.5 kg, depending on options;
The unit can be controlled by a timer and retrofitted with a heater to increase the output of the generators (options);
Meets EN55014-1:2011, EN55014-2:2015 standards,
EN6000-3-3:2013, EN60335-2-77:2008;
Instructional video:
Footage illustrating the operation of the device using an example of a vegetable storage facility near Kujawy.
The product is completely safe for living organisms.
Effectiveness of disinfection by fogging with BIO ACTIV 2000, safe for living organisms, does not generate residues without a grace period, it is the only preparation of this type that is not alcohol-based.